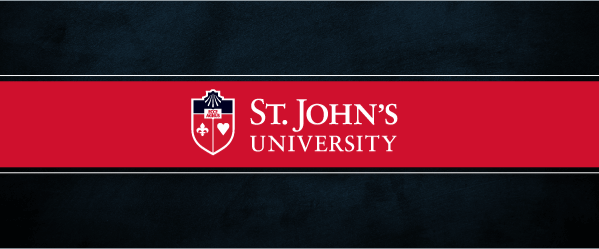 Parent and Family University
Welcome to Parent and Family University! These online sessions have been specially developed to celebrate and support the parents, guardians, and family members of St. John's University students accepted to the incoming Class of 2022. 

You are encouraged to use this opportunity to interact with St. John's faculty, administrators, and students to assist your Johnny during their transition to the University. Please review the sessions below. There is no limit; attend three or more, and your family will receive St. John's "swag" to show your St. John's pride!
 
We hope you find these sessions helpful as we all work together to ensure your student has an enjoyable and successful college experience.


 
Piloting the Journey: Meet the President and Provost
Meet and chat with the President and Provost of St. John's University! Learn about exciting university plans and updates around campus, in the classrooms, and pertaining to your student's chosen program.
Developing Your Roadmap: The Route to Career Success
At St. John's University, we provide students with opportunities to explore career interests and options, develop professional skills, gain experience through internships and other opportunities, create connections with alumni and employers, and begin the job or graduate school search. Join us to learn how you can help your student navigate the journey, as they discover their passions and advance their personal and professional growth. 
Paying for School: Tips for Preparing Your Budget
Join the Office of Student Financial Services as they walk through the payment and financial aid processes at St. John's University.
Charting Your Course: Academic Success at St. John's University 
As your student's academic journey is about to begin, there are critical ways for you to support their academic success. During this session, learn about the many academic opportunities available to students, along with support services that help them achieve academic excellence.
Your Student's Itinerary: Getting Involved at St. John's University
At St. John's University, we provide our students with the opportunity to pursue their passions through various cocurricular and extracurricular activities. From joining a student group, fraternity, or sorority, to attending an athletic event, social programs, or having an on-campus job, our initiatives offer students the opportunity to build a sense of community, learn the value of individual and group responsibility, create lifelong relationships, and engage in a memorable college experience based on their personal interests.

Please join us to learn more about the many options for students to become engaged during their college career.
Destination Dean's List: Honors at St. John's University
Join Honors Program Directors as they discuss how the courses in their program differ from regular sections, and hear about impressive student outcomes and statistics.

Have them answer your questions about the administrative structure of the University Honors Program.
Discovering Your Faith on Campus
At St. John's University, your student's journey is as spiritual as it is intellectual. Our passion for creative teaching and learning guides your student as they take their place in this world, and become the person they are called to be.

This session provides information and conversation to help you support your new college student as they transition into higher education, and explore and strengthen their spiritual identity in an inclusive and welcoming environment.
There's No Place Like Home (except maybe here): Living On Campus
For families of new resident students, join the Office of Residence Life for a session designed to answer your questions about your student living in University housing. 

The residence life team will provide a preview of our housing and meal plan options and rates. We introduce you to the housing portal, assignment process, and our roommate finder features. And we provide an overview of our staff, programming, and our community values. This session also includes a preview of move-in day with an overview of our Move-in Survival Guide. 

Tips from Johnnies on the Journey: St. John's Students Share Their Stories
Hear directly from current students about their experience at St. John's University. Building upon their own "origin stories," they explore ways to got involved and stay connected on campus, and offer advice to your student, as they embark upon their college journey. 
One University - Two Destinations: Getting to Know Our Staten Island Campus  
Considered by many to be the best of both worlds, hear from members of the St. John's University Staten Island campus community about the history on campus, what makes St. John's Staten Island unique, and the benefits of a close-knit learning community that is part of an internationally recognized, major University.
Caring for One Another: A Commitment to Diversity, Equity, and Inclusion
Cultural change catalyst, inclusion strategist, and cultural innovator Vernā Myers reminds us that diversity is being invited to the party, and inclusion is being asked to dance.
Now that your student has been invited to the metaphoric party (e.g., the St. John's community), the Office of Equity and Inclusion discusses a few of the mission-driven ways that it works across stakeholder groups, disciplines, units, and campuses to demonstrate our University's care and commitment to all of its members - especially our students. 

By the end of this session, we aim to highlight the many ways we collectively work to remove barriers and create opportunities to ensure that your student is being asked to dance at St. John's University.
The Journey Continues Abroad: Understanding our Global Mission
Not only does St. John's University provide engagement with all that New York City has to offer, we offer opportunities to go global right from day one.

Through programs at our European campuses and international partners, students can participate in our nationally unique first-year program, Global Passport Program, as well as semester or short-term internship and service programs at every stage of their St. John's career.

Join us as we explore these unique opportunities for your student!